Contact Us
We are located in Stratford, Ontario, Canada.
Download a map [PDF]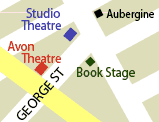 Book Stage
126 Waterloo Street South
Stratford, ON N5A 4B4
Canada
Tel: 519-272-0937
Web: www.BookStage.com
Email: info@bookstage.com
Due to my retirement Book Stage is now closed to walk-in business. Books on our website bookstage.com we still sell directly by mail order. The still substantial stock in the store is available for wholesale purchase by appointment.
During the coronavirus crisis restrictions we can supply books by mail, distanced pick-up to be arranged or, for orders of $25 or more, delivered free within Stratford. All of our stock is now offered at a 30% discount.
While we have many titles listed online (please use the search or catalogues features to browse titles) most of our stock is still not online. Please feel free to send us a Wishlist or list of your favourite books or authors via email at info@bookstage.com.
A book lover's paradise found