Selected new, fine used, rare & antiquarian books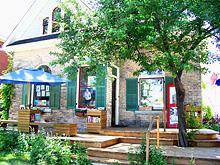 Book Stage is located across from the Studio Theatre in downtown Stratford, Ontario — home of the world famous Stratford Theatre Festival.
Due to my retirement the store is no longer open to retail walk-in business. However, we continue to sell store inventory to retail and wholesale customers by appointment.
Please search an incomplete listing of our inventory through our online search tool, or contact us to inquire about titles that are not listed. Please see the contact page for further details on how to reach us or to place an order.
We have been a member of the Canadian Booksellers Association since 1976.
A book lover's paradise found