Contact Us
We are located in Stratford, Ontario, Canada.
Download a map [PDF]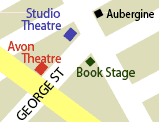 Book Stage
126 Waterloo Street South
Stratford, ON N5A 4B4
Canada
Tel: 519-272-0937
Web: www.BookStage.com
Email: info@bookstage.com
Due to my retirement Book Stage is now closed to walk-in business. In-store inventory is still available for retail or wholesale purchase by appointment. A portion of our inventory is listed in our online database and in our catalogues. Our in-store inventory is being sold at quantity discounts. Please enquire for details.
Please feel free to send us a search list via email at info@bookstage.com.
A book lover's paradise found